Doubleskin Facade
Double skin facades are based on a multilayer principle. Double skin facades systems consisting of two layers, wherein air flows through the intermediate cavity. This space acts as insulation against temperature variation, winds, and sound; improving the building's thermal efficiency for both high and low temperatures. The transparent facade provides advantages on thermal and auditory comfort and reduced air conditioning costs.
In cold climates, the cavity works as a barrier to heat loss, reducing the demand for indoor heating systems. And, in hot climates, the cavity can be vented outside the building to mitigate solar gain and decrease the cooling load. Excess heat is drained through a process known as "the chimney effect", where differences in air density create a circular motion that causes warmer air to move out.

Double skin facade depend on external conditions that influence internal comfort and user quality of life. Knowledge of solar orientation, context, local radiation, temperature conditions, building occupancy are key for double skin facade designs
Light steel structure, qualified connection brackets and consoles are used in the connection of secondary metal facades. Most preferred products from KASSO range are, expanded mesh metals, perforated metals, laser cut metals with three-dimensional surfaces.

Benefits:
Reduce cooling and heating costs
Natural light allowance
Thermal & acoustic insulation
Natural ventilation
Added value unique design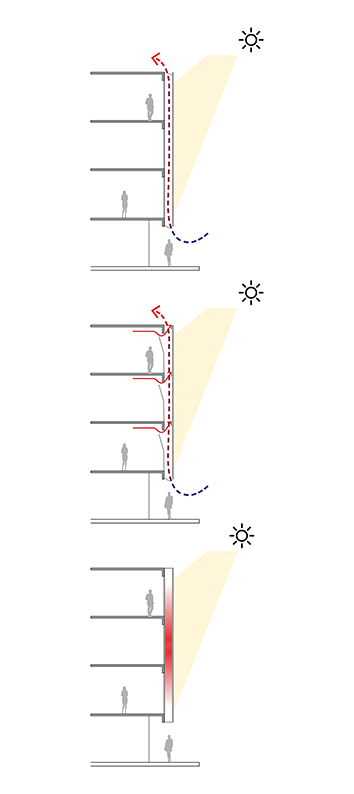 Façade Details Solutions
KASSO offers detailed solutions for expanded, perforated and pattern-cut metal panels mounting on the facade system along with box profiles fixed to the structure with anchors and various intermediate elements. KASSO metal panels can be integrated into different building and construction systems, and our technical team can also develop project-specific solutions for our clients, offering customised detail solutions with a variety of frame/bending/connection types.
Contact